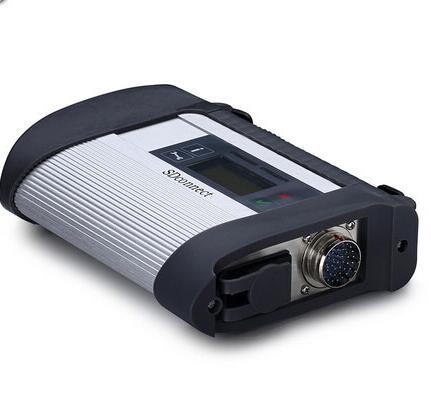 In our opinion, there are better alternatives for those who like to do their own troubleshooting. Whether you are a repair shop a Mercedes-Benz owner consider these scanners as well.  Note that we do not endorse any of the following OBD II / CAN scanner brands. Links to obd2tool.com listing are provided if you need to check current prices.
If you are looking to purchase a Star Diagnostic System with Xentry for Mercedes-Benz there are a few things you need to consider.
Learning Curve: In order to use the diagnostic scanner properly you need to learn how to use the Xentry software. While reading, clearing fault codes is not very difficult anything besides that requires that you have proper training. Yes, you can find a few guides online on how to perform certain programming using Xentry but if you don't perform the programming accurately you may end up causing more problem than you solve.
Consider Genuine Scanner: The only problem is that they are quite expensive and require a yearly license. If you are considering to buy a clone of the scanner made in China keep the following concerns in mind.
SCN Online Coding: Unless you buy the scanner from the official Mercedes-Benz source, you will not be able to perform SCN coding of control units. That's because Mercedes Star Diagnostic scanner will try to connect to Mercedes-Benz database for verification of SCN code in order to program certain control units. That is not possible unless you have purchased a valid license. With that said there may be some basic coding and programming of control units that can be done but this programing can also be performed with other advanced scanners.
Mercedes Star Diagnostic Problems with Software (Xentry) VM Ware Installation: All the setups that you see for sale that state that they use VMware environments are not legitimate hardware and software. Besides the fact that these scanners are not legal copies, they are also prone to crashing and run much slower than direct Windows installations. Yes, you are required to have a Windows XP with a serial port for the MB Star Diag C3 scanner. Many VMWare Mercedes Star Setups experience problems some of which you can see posted on this site: MB SD C4 C3 problems and solutions.
License: In order to get the full features offered by Mercedes Star diagnostic scanner you need to sigh up for a yearly subscription and pay a license fee. This is not financially feasible if you only work on one or two Mercedes-Benz models. If you end up buying a cloned version of the scanner the Xentry software key will expire in a few years and you will not be able to use your scanner at all.