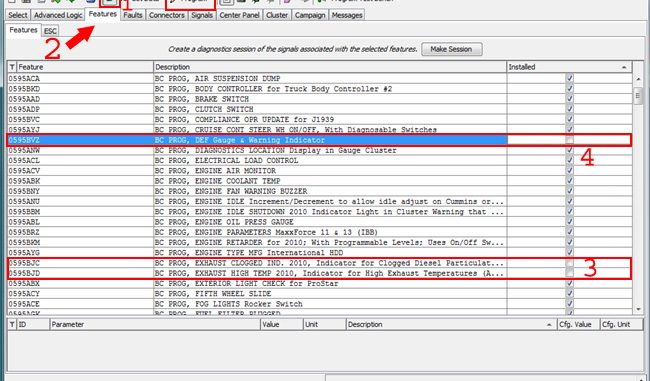 On this page we will inform You how to disable regen light & DEF gauge on International vehicles.
Sometimes after delete, the regen light & DEF gauge will blink (be turned on).
If You are using one of our deletes, those lights will not affect engine in any way, and You can easily solve this issue with 2 pieces of black tape.
In case You don't want to use black tape method, this guide will tell You how to disabled those lights in body controller.
This is applicable for International vehicles with CAT, Cummins & MaxxForce engine.
Related products Heavy Duty Truck diagnostic Scanner
1. Make sure that Your engine ECM is delete tuned.
2. Connect to International vehicle using DLB program(position 1 on photo below).
Click on FEATURES (position 2 on photo below).
Uncheck boxes for:
– Exhaust clogged indicator
(position 3 on photo below)
– Exhaust high temp.
(position 3 on photo below)
– DEF Gauge & warning indicator
(position 4 on photo below, if truck is not equipped with DEF You might not even have this option in the list)
Program the changes by clicking PROGRAM (position 5 on photo below)