What is Caterpillar SIS?
Caterpillar SIS is the electronic service tool that Caterpillar dealers, customers and employees rely on for their parts and service information needs. SIS provides information for all Caterpillar machines and engines from 1977. SIS is available on the Internet, DVDs and a network version based on the DVD standalone application.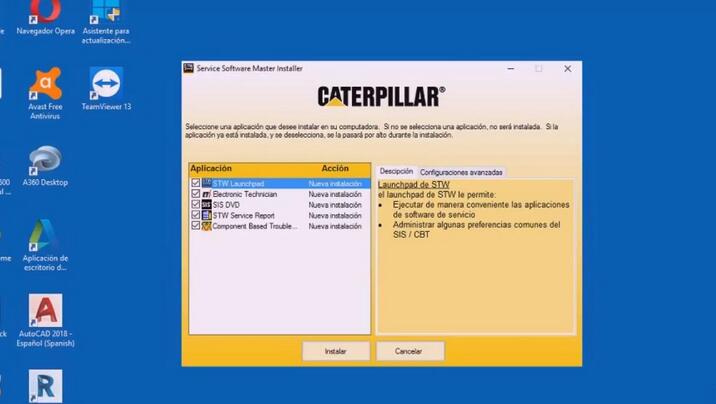 Caterpillar STW
The Service Technician Workbench is an integrated package of software tools, designed to assist the Caterpillar Service Technician during the machine repair process.
STW provides common installation of the following service software applications: STW Toolbar (STW Lauchpad), Service Information System (SIS), CAT Caterpillar ET (Cat ET), CBT Component Based Troubleshooting (CBT), Technical Analisis I (TA1) & Technical Analisis II (TA2), and Service Report.
STW Features:
Allows user to send data from SIS, TA and Heavy Duty Scanner Cat ET to an Electronic Service Report. All information about the repair is in one location.
Allows user to attach Cat ET Warranty Reports to the STW service report.
Allows user to attach digital photos to further document the repair.
A single source of support ? DDS Support Center
Electronic service reports are easier to archive than paper service reports.
Integration between Component Based Troubleshooting (CBT), Service Information System (SIS), Cat Electronic Technician (Cat ET), Flash File Search and Service Report.
The DBS Upload utility increases dealer efficiency by eliminating the need for the technician to re-type data into the service report, already created in DBS. This information is sent from DBS to STW to create a STW service report.
Operating system:
Windows Vista / 7/8/10
Language: Multilingual
Version: 01.2018
Caterpillar SIS 2018 Full Free Download:
https://mega.nz/#!nPwxxRwT!qEkvAniF8Mj8S7Ln6x1ozgk5KZFZ1cB2mzV8gaLOqgY
2019 Caterpillar SIS CAT SIS Software Download & Installation Service (This version test work 100% 140GB
Families/Models/Prefixes
BROOM-ANGLE, SAHL BROOM, BCG
GENERATOR SET, 3516B, EDG
INDUSTRIAL ENGINE, C7.1, G9R
GENERATOR SET, C6.6, LC6
EXCAVATOR, 336F LH, LTP
MOTOR GRADER, 12M 3, N9F
MOTOR GRADER, 160M 3, N9L
ARTICULATED TRUCK, 725C, TFB
WHEEL TRACTOR-SCRAPER, 621K, WTL
ENGINE – MACHINE, C9.3, WYE
EXCAVATOR, M315D 2, CH3
GENERATOR SET, 3516B, JCY
HAMMER, B30, MAY
MOTOR GRADER, 140M 3, N9M
MOTOR GRADER, 12M 3 AWD, N9P
MOTOR GRADER, 12M 3, N9R
ENGINE – MACHINE, C9, SYE
PACKAGE, 3.4B IOPU, CJ3
BROOM-ANGLE, SAHL BROOM, H1W
GENERATOR SET, 3516C, JDH
EXCAVATOR, 336F LH, KGH
MARINE ENGINE, C140-16, P3P
ENGINE – MACHINE, C9, SSE
EJECTOR TRUCK, 730C, TFH
ARTICULATED TRUCK, 725C, LFB
MINI HYD EXCAVATOR, 300.9D, LJ2
MOTOR GRADER, 140M 3 AWD, N9J
EXCAVATOR, 336F H, NAJ
EXCAVATOR, 320E, SHX
WHEEL TRACTOR-SCRAPER, 627K LRC, WTN
BROOM-ANGLE, SAHL BROOM, BAW
EXCAVATOR, M317D 2, CH5
EXCAVATOR, 336E H, HDW
ARTICULATED TRUCK, 730C, LFF
EJECTOR TRUCK, 730C, LFH
MINI HYD EXCAVATOR, 301.7D, LJ4
MINI HYD EXCAVATOR, 302.7D, LJ7
MOTOR GRADER, 160M 3, N9E
ENGINE – MACHINE, C9.3, SYE
ARTICULATED TRUCK, 730C, TFF
WHEEL TRACTOR-SCRAPER, 627K, WTC
EXCAVATOR, 336E LH, JEA
MINI HYD EXCAVATOR, 302.4D, LJ6
MOTOR GRADER, 160M 3 AWD, N9T
ENGINE – MACHINE, C13, T4F
TRACK-TYPE TRACTOR, D6R, WBC
GENERATOR SET, 3516, JCW
MINI HYD EXCAVATOR, 301.4C, LJ3
MINI HYD EXCAVATOR, 302.2D, LJ5
MOTOR GRADER, 12M 3 AWD, N9B
MOTOR GRADER, 140M 3 AWD, N9G
MOTOR GRADER, 160M 3 AWD, N9K
WHEEL TRACTOR-SCRAPER, 621K, WTA
WHEEL TRACTOR-SCRAPER, 623K LRC, WTM
GENERATOR SET, 3516B, JDE
GENERATOR SET, 3516C, JDJ
EXCAVATOR, 336F LNH, MTW
MOTOR GRADER, 140M 3, N9D
EXCAVATOR, 336F LH, PFL
TRACK-TYPE TRACTOR, D6N OEM, SC6
ENGINE – MACHINE, C9.3, SSE
WHEEL TRACTOR-SCRAPER, 623K, WTB
STW Service Report
The STW Service Report is a tool to help you collect, report, and organize your service jobs.
– Allows for complete documentation of your repair.
– Reduce duplicate typing of Service Reports
– Easy to read
– Spell check
Easy integration with Dealer Business System (both DBS and DBSi):
Download header information from DBS
Upload service information to DBS after your job is completed
Collect information from other service tools, including:
Parts lists from SIS
ECM summaries and reports from Cat ET
Inspection lists from Technical Analysis (TA)
Total: (Caterpillar SIS 2018 )
Caterpillar Disc #1: EXCAVATORS, OEM PRODUCTS
Caterpillar Disc #2: ELECTRIC POWER GENERATION
Caterpillar Disc #3: MARINE ENGINES, PETROLEUM PRODUCTS, TRUCK ENGINES
Caterpillar Disc #4: INDUSTRIAL ENGINES
Caterpillar Disc #5: EXCAVATORS, OEM PRODUCTS
Caterpillar Disc #6: PIPELAYERS, TRACK TYPE TRACTORS
Caterpillar Disc #7: INTEGRATED TOOLCARRIERS, WHEEL TYPE LOADERS, WHEEL TRACTOR SCRAPERS
Caterpillar Disc #8: WHEEL TYPE LOADERS
Caterpillar Disc #9: ARTICULATED DUMP TRUCKS, LOAD HAUL DUMP, MACHINE CONTROL GUIDANCE PRODUCTS, OFF HIGHWAY TRUCKS, UNDERGROUND ARTICULATED TRUCKS, ON HIGHWAY TRUCKS
Caterpillar Disc #10: BACKHOE LOADERS, CHALLENGERS, COMBINES, MINI EXCAVATORS, SKID STEER LOADERS, TILLAGE, TELSCOPIC MATERIAL HANDLERS, WORK TOOLS
Caterpillar Disc #11: ASPHALT PAVERS, COLD PLANERS, COMPACTORS, MOTOR GRADERS, ROAD RECLAIMERS
Caterpillar Disc #12: EXCAVATORS
Caterpillar Disc #13: TRACK TYPE TRACTORS
Caterpillar Disc #14: EXCAVATORS, OEM PRODUCTS
Caterpillar Disc #15: EXCAVATORS, OEM PRODUCTS
Caterpillar Disc #16: EXCAVATORS, OEM PRODUCTS
Caterpillar Disc #17: EXCAVATORS, OEM PRODUCTS
Caterpillar Disc #18: EXCAVATORS, OEM PRODUCTS
Caterpillar Disc #19: EXCAVATORS, OEM PRODUCTS