Name Plate on Caterpillar Engine (C-15)
115-5852-2  PLATE & FILM GP (ENGINE INFORMATION)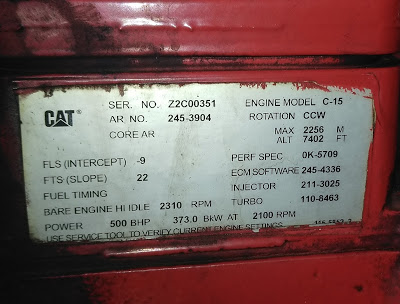 ENGINE MODEL  C-15
SERIAL NO. Z2C00351
ROTATION CCW (Counterclockwise)
MAX. ALT  7402 Feet (2256 Meters), Altitude (Highest Elevation) above sea level.
AR NO. 245-3904
CORE AR
Information available for "Engine Arrangement No." from SIS Web.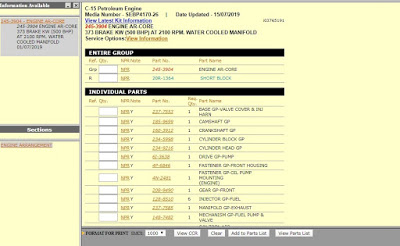 Use Service Tool (Cat ET) to Verify Current Engine Settings
1. Connect Caterpillar Electronic Technician (ET) to the service tool connector.
Read More: How to Connecting Caterpillar ET Software to the ECM
2. Click on "Service", then "Configuration".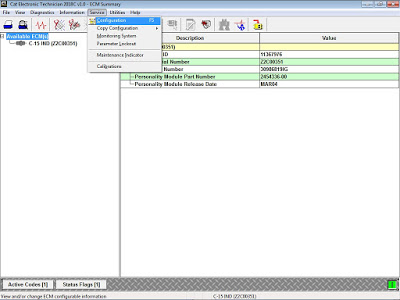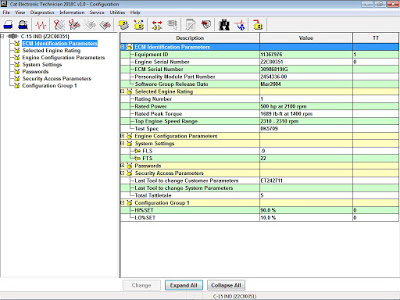 -ECM SOFTWARE  245-4336
Please see the "ECM Identification Parameters", it's also called the "Personality Module Part Number" or "ECM Software Flash File" 2454336 (Latest Flash File: 5591405).
-PERF SPEC  0K-5709
-BARE ENGINE HI IDLE 2310 RPM
-POWER 500 BHP   373.0 BkW AT 2100 RPM
The Information available also on "Engine Performance Specifications" from SIS Web.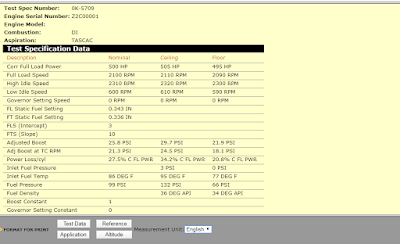 Please see the "Selected Engine Rating", it's setting to "Rating Number: 1″.
The information for "Test Spec 0K-5709″ also available on TMI Web.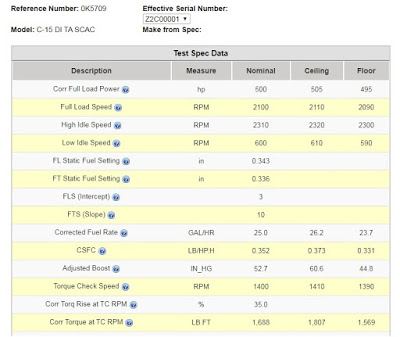 FLS (INTERCEPT)  -9
FTS (SLOPE)  22
FUEL TIMING
Please see the "System Settings", the setting FLS is -9 and FTS is 22.
FLS – Full Load Setting
FLS is a number that represents the adjustment to the fuel system that was made at the factory in order to fine tune the fuel system. The correct value for this parameter is stamped on the engine information plate. Factory passwords are required.
FTS – Full Torque Setting
FTS is similar to FLS. Factory passwords are required.
INJECTOR  211-3025
TURBO  110-8463
Information available for "INJECTOR" and "TURBO" from SIS Web.