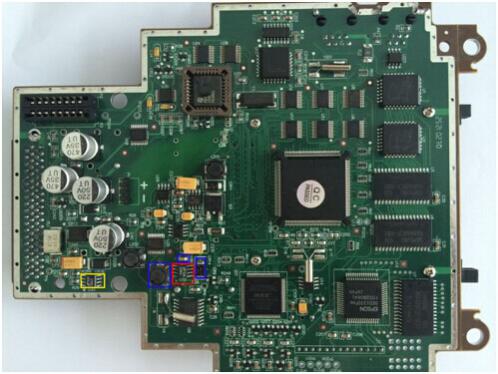 One of my customer said his GM Tech2 could only recognize GM card and not SAAB, OPEL and Suzuki card. I am very sorry for the inconvenience. Our technicians have offered 3 solutions to fix it. I know many members here have a Tech2, hope this will help anyone.
Solution 1:
Disassemble GM Tech 2, find the IC board and replace the chip in red circle with a new one from the local shops. If the local shops do not have the chip, please let our customer service know and we will contact GM Tech2 factory for it.
Solution 2:
Check if the components in blue circle are well soldered. If the components are lose, please de-soldering them and then solder them back firmly.
Solution 3:
Exchange the chips in red circle and yellow circle and see if Professional Diagnostic Tool GM Tech2 can recognize SAAB and other cards smoothly.
After re-soldering the chips in blue circle, the customer has got the issue fixed. If you encounter the same issue, please try the second and third solution first and then solution one. If all the methods above still cannot fix it, we will ask the manufacturer to ship new chips for you.