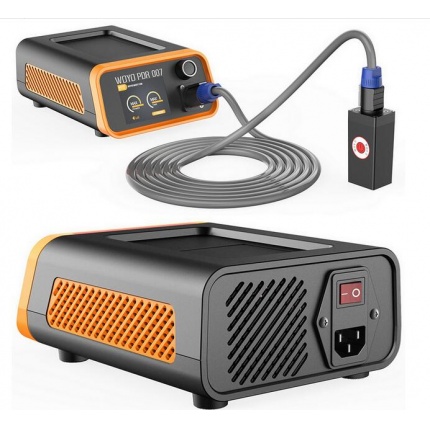 WOYO PDR 007 is a dent repair tool for auto maintence. WOYO PDR007 Auto Body Paintless Dent Repair Kit Tool is the first dent fix device which is from china. it come with 110V or 220V-240V vlotage optional. WOYO PDR007 will pay for itself by rpeairing six cars, before you wanna got one of it, you should read WOYO PDR007 FAQ AS
Follows:
How to work? ( What is the theory?)
Unlike traditional PDR, the WOYO PDR adopts magnetic induction heating and releases the dents tension, then adsorbs the depression parts, and finally recovers to original state.
What are the differences between WOYO PDR007 and traditional dent remove tool?
Free disassembly,Traditional repair tools use hook, reach into the interior of sheet metal, and then pull the dent parts. Disassembling auto doors or windows may be necessary. But, WOYO PDR can work directly on the dent parts.
Efficiency increased significanty
WOYO PDR may take 30s-3m.the traditional repair tool takes at least 30 minutes. Besides the spray shall take 24 hours
Exquisite workmanship
the dent part is smooth after WOYO PDR. the traditional repair tools may leave some small bumps.
What kind of dentcan be repaired
Adaptive Range
The equipment is for smooth dent such as the following graphs
Non Adaptive Range
a. the following dead angle dent
aluminum body does not apply
What part of auto body can be repaired?
Hood, door, roof
How about market prospectsof WOYO PDR
Big data has shown in two years: Auto beauty shops wash 30 cars per day, and guide 10 cars consumption, making a deal.Customer price 150 yuan x200 days = annual profit 30,000 yuan
Are you a direct manufacturer or trading company?
We are a direct manufacturer, we have our own machine and work plant. We can produce products according to your requirements. Welcome to our factory for visiting.
Report this ad
What is your MOQ?
We do not have serious qty requirments, one pcs is ok.
Can Ihave a sample order?
Yes, we welcome sample order to test and check quality. Mixed samples are accepted.