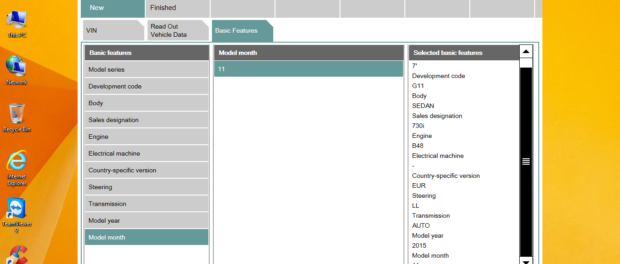 Update BMW ICOM software to the latest version ISTA-D 3.54 ISTA-P 3.58 to get 100% fully functions as the dealer workshop use, including BMW Group ISTA, BMW Group ISTA-P, BMW Group ISPI Local path, Super iCOM updater v1.0, Super iCOM SN Reader, iToolRadar, etc. Super iCOM software platform uses ISPI NEXT which is the latest platform developed by BMW AG.
Latest version:
ISTA-D:3.54.12
ISTA-P: 3.58.0.5
VIN  2016.04
Language:
ISTA D:French, German, Greek, Italian, Japanese, Korean, Portuguese, Russian, Spanish, Swedish, Thai,Turkish
ISTA-P:German, British English, American English, Swedish, Spanish, Italian, French, Greek, Japanese, Czech, Korean, Indonesian, Chinese, Taiwanese, Turkish, Dutch, Portuguese, Russian, Thai, Polish
* Note:The default language is English, and if you need other language, pls send the serials number to us to activate it.
You need:
2016.4 Super iCOM SSD (SSD runs faster and more stale than HDD)
(runs with BMW ICOM A2 for diagnosis or programming)
All Sata Latops
Laptop requirements:
O.S.: Windows 8.1
CPU: Intel Celeron 2.0 and above (i5 Recommend)
RAM: 2Gb and above (4Gb Recommend)
USB: 2.0 and above
Super ICOM update procedure:
1.Double click the Super ICOM Updater icon on the desktop
2.Input the Serial number and password
Update ID: Your serial number
Update password: Last 8 digital numbers inside your Password envelope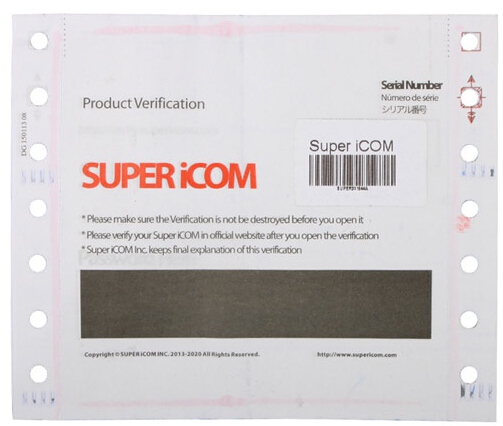 3.choose the version you want to update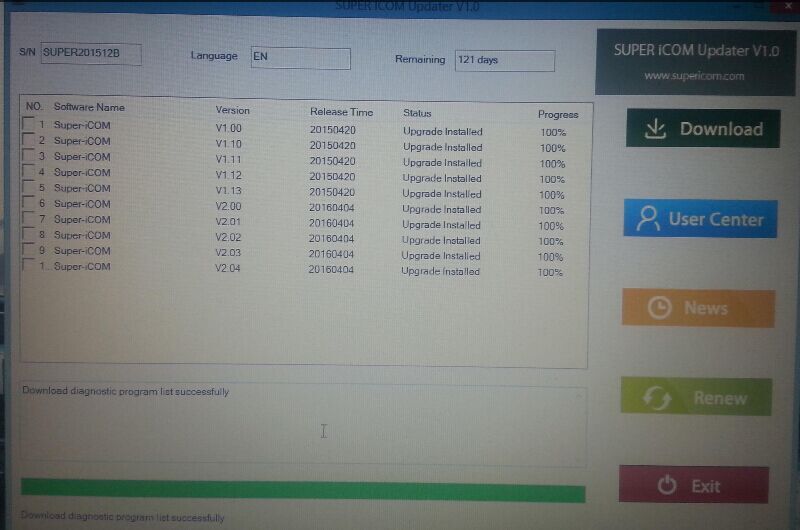 Note:
Please download and update software one by one in the table above; or you would fail to
wait for the download process finish
Install the update files.
Super icom highlights:
Rebuild the ISTA-P Launcher to V3.0
Fix the bug of full screen when using ISTA-P
Fix the bug of full screen when using ISTA-D
Fix the ISTA-P Launcher quit error
Fix the dealer information is ISTA-P/ ISTA/D
Add full languages selection options internal ISTA-P
Add brands selection options internal ISTA-P
Add the ISTA-P Launcher start waiting screen
Add the ISTA-P Launcher close waiting screen
Add the Campagna Motors in ISTA-D
Add BMW / BMW Motorcycle / BMW i / BMW Mini / Rolls-Royce / BMW UX selection options internal ISTA-P
Optimize the ISTA-D / ISTA/P starting speed
Optimize the Windows 8.1 first time start configuration speed
Optimize the Windows 8.1 Touch screen / Tablet drivers
Optimize Expert Mode coding / programming speed