Automotive OBD2 scanners and car code readers are the easiest and least expensive ways to find out why your engine light is on and get it to turn off. Even the best car code reader under $50 will give you the same basic information you'd get from the dealer or an auto repair shop, and there's no labor cost.
Since a shop may charge you $100 just to diagnose a problem, these handy devices can pay for themselves after a single use.
If you need a bit more than just reading and clearing basic engine fault codes, a full featured OBD2 scanner is a great investment. Like other technology, prices on these automotive scan tools continue to drop making them affordable to most home mechanics. For mechanics, even the best OBD2 scanner will quickly pay for itself.
In addition to what a basic car code reader does, these automotive scan tools offer additional features for diagnostics, testing, and access to other supplemental systems in a vehicle such as the ABS or SRS systems.
For those who want to turn their smartphone or tablet into a powerful car diagnostic tool, OBD2 Bluetooth scanners are becoming increasingly popular. Don't have Bluetooth on your phone? There are even auto scan tools that connect via Wi-Fi.
1. Autel AL619 OBDII Scan Tool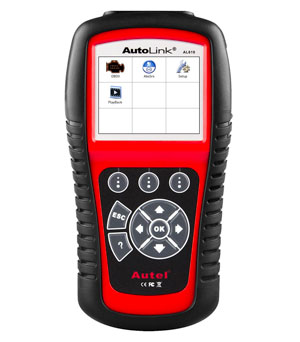 We've become big fans of Autel Scanners (and their customer service) and this model is one of the best bang for your buck diagnostic tools out there. This makes it one of our favorites for a fully featured auto scan tool.
In addition to being able to clear out normal OBD2 fault codes, it will read/clear ABS and SRS (airbag) codes quite well although not for every make.
No scanner is perfect when it comes to ABS or SRS codes, but the AL619 seems a bit more consistent than others, especially when you make sure to update the software immediately after receiving the unit.
In addition, the Autel automatically pulls in your VIN, displays monitor and I/M readiness (emissions), shows real-time diagnostic data, and even allows printing of data through a PC (sorry not much Mac support here). The full color monitor is clear and the buttons are simply to use.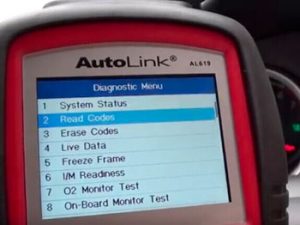 While some may prefer a touchscreen like some other more expensive models, buttons, in my opinion are a lot more functional for a scan tool. Especially when you're in the middle of a repair and fingers covered in oil/grease.
A lot of users have noted that they couldn't get the AL619 to read ABS or SRS codes out of the box, but in most cases, a free firmware update took care of the issue.
The update may take an hour or two but it's only a one time process. Autel support is top notch so you won't be on your own if there's ever an issue with your new OBD2 scanner.
2. Autel AutoLink AL319 OBDII Scan Tool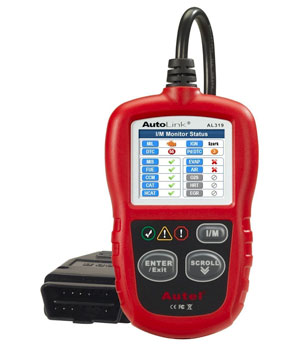 Another Autel scan tool on our list, the Autel AL319 is one of the easiest auto scanners you'll find. It doesn't have the wide range of functions that one of its big brothers (the AL619) has, but it only has three buttons, so the operation is a simple as it gets.
Read and clear codes with ease on a bright color screen. At this price point, it's a nice surprise that a short definition of an error code is provided so you don't need to manually go online and look up each code.
A useful feature is the one-click I/M (Inspection & Maintenance) Readiness Key which gives you a good idea if your vehicle will pass a smog check. By far the biggest negative of the AL319 is the short cord.
If you plan on needing to use a scan tool during driving for real time monitoring, you should probably look elsewhere. The cord is literally long enough to barely sit on your thigh in most cases.
Other than that, the Autel AL319 is a great value and super simple to use which is probably why it's so popular with DIY mechanics.