1. Autel MK808 vs. IM508 vs. MS908S vs. IM608 vs. MaxiSys Elite
Autel MaxiIM + MaxiSys Comparison Chart
HARDWARE
MaxiCheck MX808
MaxiIM IM508
Maxisys MS908S
MaxiIM IM608
Maxisys Elite
Image
Vehicle connection
OBDII cable
OBDII cable

Wireless maxisys VCI

MaxiFlash JVCI

J2534 MaxiFlash Elite

Color screen
7 inch touchscreen
7 inch touchscreen
10 inch touchscreen
10 inch touchscreen
10 inch touchscreen
Processor
1.5GHz quad core
1.7GHz hexa core
1.3GHz + 1.7GHxhexa core
1.7GHz hexa core
1.8GHz quad  core
Onboard memory
32GB SSD/ 1GB RAM
32GB SSD/ 1GB RAM

64GB

SSD/

2GB

RAM

64GB

SSD/

2GB

RAM

64GB

SSD/

2GB

RAM
Battery
5,000 mAh
5,000 mAh

11,000 mAh

15,000 mAh

13,600 mAh

OBDII Connectors

1995-2001 kit

1995-2001 kit

Operating system
Android 4.4.4
Android 4.4.2
Android 4.4.2
Android 4.4.2
Android 4.4.4
Software Updates
1 Year FREE
1 Year FREE
1 Year FREE
1 Year FREE

1 Year FREE

DIAGNOSTICS
OE-Level coverage 1996+
US/AS/EU 1996+
US/AS/EU 1996+
US/AS/EU 1996+
US/AS/EU 1996+
US/AS/EU 1996+
System diagnostics
Auto VIN & all system auto scan
Auto VIN & all system auto scan
Auto VIN & all system auto scan
Auto VIN & all system auto scan
Auto VIN & all system auto scan
Read/Erase codes
YES
YES
YES
YES
YES
Live & Freeze frame data
View, Record,Playback
View, Record,Playback
View, Record,Playback
View, Record,Playback
View, Record,Playback
MaxiSys software applications
SHOP & DATA Manager
SHOP & DATA Manager
SHOP & DATA Manager
SHOP & DATA Manager
SHOP & DATA Manager
Component activations

Bi-directional control

Bi-directional control

Bi-directional control

Enhanced functions

Advanced coding+ adaptation

Advanced coding+ adaptation

SERVICE
Oil Service Reset
YES
YES
YES
YES
YES
Parking Brake Pad relearn after replacement
YES
YES
YES
YES
YES
Steering angle sensor relearn
YES
YES
YES
YES
YES
Battery register and reset
YES
YES
YES
YES
YES
Diesel particulate filter regeneration
Reset diesel emissions
Reset diesel emissions
Reset diesel emissions
Reset diesel emissions
Reset diesel emissions
TPMS
Sensor ID relearn
Sensor ID relearn
Sensor ID relearn
Sensor ID relearn
Sensor ID relearn

ECU Coding

YES

YES

YES

IMMO
Read PIN/CS (All key lost)
YES
YES
Key generation & learning
YES
Non-16ghsecurity keys
YES
Non-16ghsecurity keys
IMMO ECU reset/adaptation
YES
YES
YES
YES
IMMO ECU refresh/coding
YES
YES
YES
YES
Backup/RestoreECU data
YES
YES
Benz 3rd generation immo add key, all keys lost, key learning
With XP400
YES
BMW FEM/BDC key learning & ECU adaptation
YES
YES
BMW CAS4/3/2 Key learning
CAS4 compatible with XP400
YES
VW/Audi MQB (VDO & JCD) add key, immo V A4/A5/Q5 2015+ key learning
YES
VW Audi Skoda Seat IMMO III/IV/V add key, all keys lost
YES
YES
KEY PROGRAMMING
Key read/write
YES
Limited domestic and Asian 2014 and other
YES
Limited domestic and Asian 2014 and other
EEPROM read/write
YES
YES
MCU read/write

Basic

Advanced

ECU, IC card & MC9S12 encryption chip read/write
With XP400
YES
Mercedes IN RAFED key read/write
With XP400
YES
Remotefrequency detect
With XP400
YES
Support PC
With XP400
YES
The MaxiSys Elite has a powerful processor. The MK908P has the same diagnostic software as the Elite. If you can't afford the Elite and still want diagnostics coding and programming, go for the MK908P.
If you want to do more key coding and don't need the BMW and Benz onboard programming, then you can look at the IM608 or IM508 with XP400. If you don't need key coding at a locksmith level but want to program bmw and benz from the tablet then you can get the Elite or MS908S.
If you want to invest in a tool that you are not going to be able to use all of its special functions. We would rather recommend a tool that's a perfect fit for your needs. The mx808 or ms906BT is a fantastic tool by the way.
2. Autel MaxiCOM MK908P VS MaxiSys Elite VS MS908P VS MS908
What's the difference among Autel MaxiCoM MK908P , MaxiSys Elite, MS908P, MS908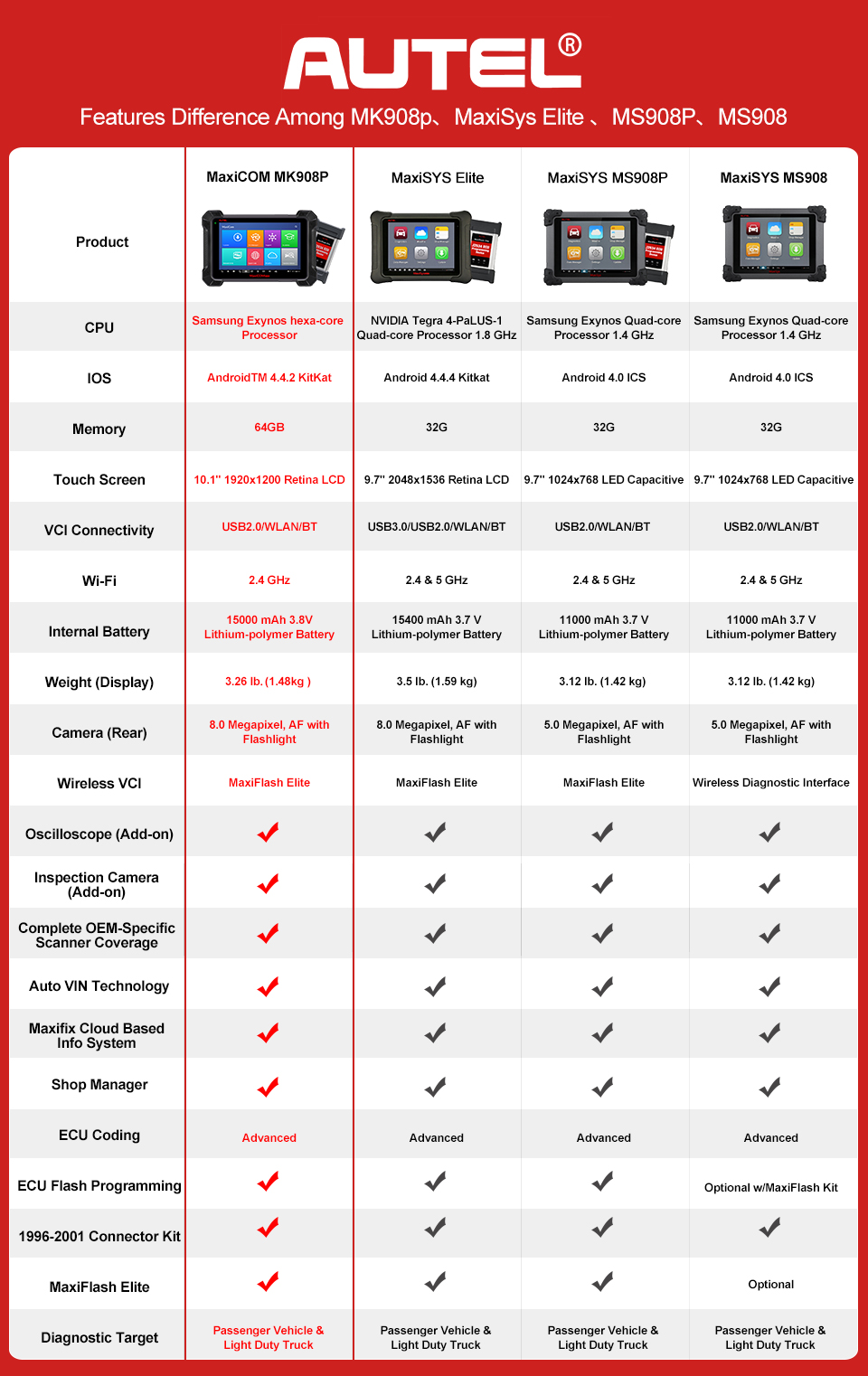 Note:
The MK908P is an upgraded version of MS908, and the difference between them is that MK908P is equipped with more advanced hardware
Processor:The MK008P is processed by the powerful Samsung Exynos hexa-core Processor (1.3GHz Quad-core ARM Cortex-A7 + 1.7GHz Dual-core ARM Cortex-A15) while the MS908P is using the Samsung Exynos Quad-Core Processor 1.4GHz
Memory : The MK908P is equipped with 2GB RAM & 64GB on-board Memory, but MS908P onily has 32GB on-board memory.