If an ECU has been flashed with a defective software and other ECUs reports that it is missing,you need to recover it.So herewww.obd2tool.com show you guide on how to use ECU Programming Tool Scania XCOM diagnostic software to recover defective ECU.
Procedures:
1) Select "recovery from defective software" from the Communication menu.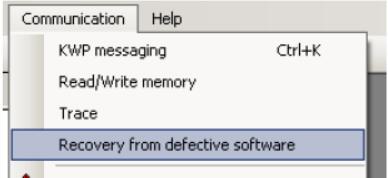 2) Select the defective ECU.
3) Select to recover it. XCOM will try to connect to the ECU now and should succeed within seconds. In case if XCOM fails try to connect to another CAN bus directly on the ECU.
4) On success a message will be shown:

5) Immediately connect with a flash program (Gadget or DMec) and repair the ECU with a no defective software. Do not turn the key or reset the ECU in another way, in that case the whole procedure have to be redone.