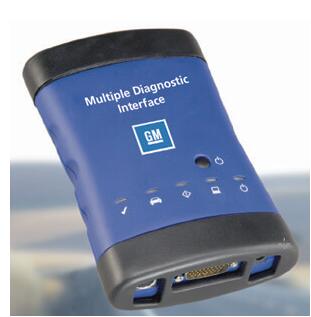 The GM MDI is the Global Diagnostic tool for future vehicles starting with Global A vehicles. It's a compact communication module that manages the transfer of data between a vehicle's onboard ECU network with an auxiliary CAN bus.
The GM MDI was introduced in the fall of 2007 for Pass-Thru programming and offers faster programming speed using J2534. Depending on vehicle architecture, the MDI can communicate 20% to 70% faster than the Tech 2. It can be used to perform Pass-Thru programming on all vehicles built since 1996 and into the future. Please note that there are other J2534 VCIs (vehicle communication interface) that will perform MDI functions utilizing GDS2 software.
Servicing the next generation Global A vehicles requires the diagnostic software, GDS2 (Global Diagnostic System 2) running on a local PC device while the MDI is connected to the vehicle.
The MDI connects to the vehicle via the J1962 connector using a DLC cable. Connection between the MDI and the PC can be accomplished via standalone (USB) or through (CAT5, or Wireless) networks.
Model Year Coverage
Reprogramming for 1996 – up vehicles
2010 Coverage
*   Chevrolet Camaro
*   Chevrolet Equinox
*   Buick Lacrosse
*   Cadillac SRX
*   GMC Terrian
Additional for 2011
*   Chevrolet Cruz
*   Chevrolet Volt
*   Buick Regal
Additional for 2012
*   Buick Verano
*   Chevrolet Sonic
*   Chevrolet Orlando
Additional for 2013
*   Cadillac ATS
*   Cadillac XTS
*   Chevrolet Malibu
*   Chevrolet Captiva
Tech2Win may be used for earlier backward compatibility for 96 up vehicles.
Tech2Win does not perform all functions of the Tech 2 hand held scan tool.
PC Requirements
*   Intel Core i7 at 2.6GHz 64 bit
*   2) USB 2.0 (or better) ports
*   500GB Hard drive
*   4GB ram
*   Windows 7 Professional 64bit
*   Internet Explorer 9 +
*   Wireless capability
Software License
Available as three different subscriptions.
Complete GM Service Support Package?Includes: GM SI, Tis2Web – All Access, GDS 2, and Tech2Win
MDI Software for GM MDI
GM Vehicle Communication Interface Package?Includes: Global Diagnostic System 2 and Tech2Win
GM Global Diagnostic System 2?Includes: Diagnostic software for GM Global A vehicles (available on a short mid and annual subscription)
The MDI must have an active subscription to Obd2tool.com to function