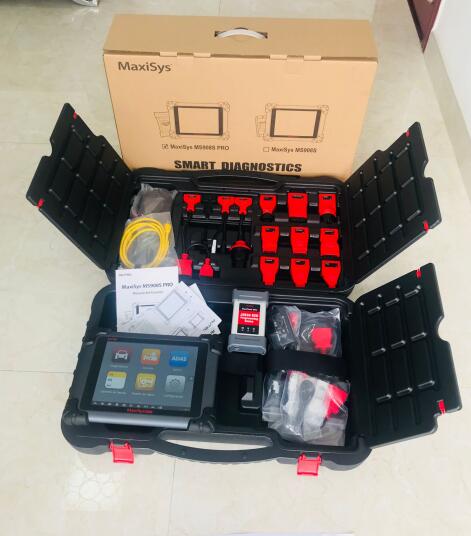 Descripiton:
Same Features as MS908S PRO
Includes New Smaller MaxiFlash Elite J2534 Device
Perform Pass-Thru Programming Features
J2534 Device Includes Internal Bluetooth VCI
It features a 9.7" LED capacitive touchscreen and upgraded, top-of-the-line hardware.
The Autel Scanner MS908S Pro is one of our most advanced tablet scanners available, with a hexa-core processor, double the memory at 64G, better quality 8MP camera, and 2 USB ports.
Product Info:
9.7" Color Touchscreen
1.3GHz + 1.7GHz Hexa-Core Processor
64GB SSD Memory / 2GB RAM
11,000mAh Lithium-polymer Battery
OBDII Connector Kit & Carry Case
MaxiFlash Elite J2534 Programming Device
Android 4.4.2 / WiFi Update & Print via PC
MaxiSYS Suite Applications:
MaxiFIX / Shop Manager / Remote Support
1Yr FREE Software / 1Yr Warranty
8MP Camera with Flashlight
2 USB Ports
AutoVIN/ AutoSCAN
Covers Domestic, Asian and European
Vehicle Manufacturers (1996 to Present)
Access Repair Records & Test Data
Reset Diesel Emissions Light/Med. Duty
15+ Service Reset Features
Access All Modules in All Systems
Bi-Directional Control
Advanced Coding & Adaptations
Key Programming Domestic & Asian 2001+
Kit Consists of: MS908SP Pro Tablet, MaxiFlash Elite, USB Cable, Charging Cord, Connector Kit, AC/DC Adaptor, User Manual and Carry Case
MaxiSYS Pro Diagnostic Scan Tool System (MS908SP) by OBD2TOOL. If you're looking for a reliable solution to complete your project, this 1st-grade product is right up your alley. Designed utilizing the finest materials, it delivers unmatched levels of durability and strength needed to provide long-lasting service life. Superior in functionality, it will help you make any job easier and faster.