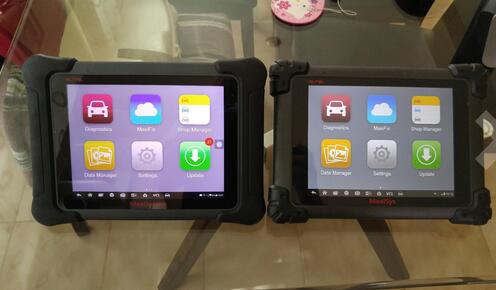 The Maxisys Elite, the newest addition to the MaxiSys line of highly advanced smart diagnostic tools, is based on the fast and intuitive Android 4.4 operating system. Powered by NVIDIA's Tegra? 4, the world's fastest mobile processor, its visually stunning 9.7" Retina display offers ultra-high resolutions up to 2048×1536 and an optimized array of sophisticated and powerful applications. The MaxiSys Elite rapidly performs every job from comprehensive vehicle diagnostics & analysis to advanced ECU programming. 2x faster than any comparable device, the MaxiSys Elite provides extended battery life and intelligent power saving. The MaxiSys Elite offers a super-sensitive capacitive screen able to respond to gloved, moistened, and even greasy fingers! The ergonomically angled docking station provides optimum visibility and convenient charging that eliminates power concerns.
1.The most extensive complete system coverage for more than 80 US domestic, Asian and European makes and models
2.Exceptional OE-Level functionality from comprehensive OBDII diagnostics & services to advanced ECU coding and programming
3.Uniquely integrated vehicle programming capabilities working with a SAE J2534-1 & -2 compliant vehicle programming pass-thru interface
4.Automatic system and software updates with real-time push message notifications via internet
5.Instant remote control tech support anytime, anywhere
6.Interactive Data Logging sessions enable direct contact with Autel Scanner Support for first-hand troubleshooting of diagnostic bugs and errors
7.One-stop multitasking designed for ideal management of workshop operations to keep all data files, customer info, and vehicle records well organized
8.Unique ergonomic design with rubberized outer protection and a rugged internal housing
Does it have the programming and relearning functions?
Answer:
Yes, The Autel MaxiSYS MS908CV supports commercial vehicle programming and relearn functions. The commercial vehicle models is from heavy duty trucks to medium and light duty diesels, and from buses to agricultural & industrial machinery. And the vehicle coverage can cover Volvo, Toyota, Foton Daimer, Isuzu, Bendix, Allison, Mack and much more.