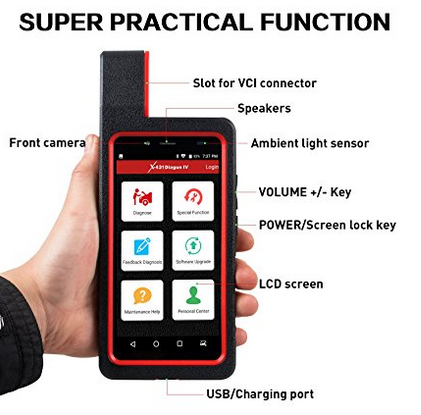 launch x431 diagun IV Professional Auto Diagnostic Tool OBD2 Scan Tool For EPB BMS DPF SAS TPMS IMMO BLEEDING and Oil Reset X-431 Diagun 4 Universal Car code Reader Scanner Update Online
1.NEW REALSE LAUNCH X431 TOOL:The new X 431 scan replace Launch Diagun. Diagnose the electronic control systems of prevailing vehicle models covering Asian, European, American and Chinese
2.MAIN FUNCTION: Read DTCs, Clear DTCs ,Read data stream, built-in Wi-Fi module makes surfing on the internet freely., allows you to send and receive emails.
3.SPECIAL FUNCTION: The Reset section is specially designed to provide you quick access to the vehicle systems for various scheduled service and maintenance performances. All resetting operations are driven by executive commands..Oil Reset Service, Steering Angle Calibration,Electronic Parking Brake Reset,Battery Register / Battery Maintenance,ABS Bleeding,Electronic Throttle Position Reset / Learn,Diesel Particulate Filter (DPF) Regeneration,Tire Pressure Monitor System Reset
4.SUPPORT LANGUAGES: Italian, English, Chinese, German, Japanese, French, Spanish, Portuguese, Polish, Turkish, Dutch, Greek, Hungarian, Arabic, Danish, Korean, Persian, Romanian, Serbian, Finnish, Swedish, Czech
5.UPDATE ONLINE:One-click update,Launch is from China,Launch Official wesbite is different Launch US website,Launch US only is a branch,our products can check on Launch Official website only.Launch x-431 Diagun IV delare code is 755D,2 years free update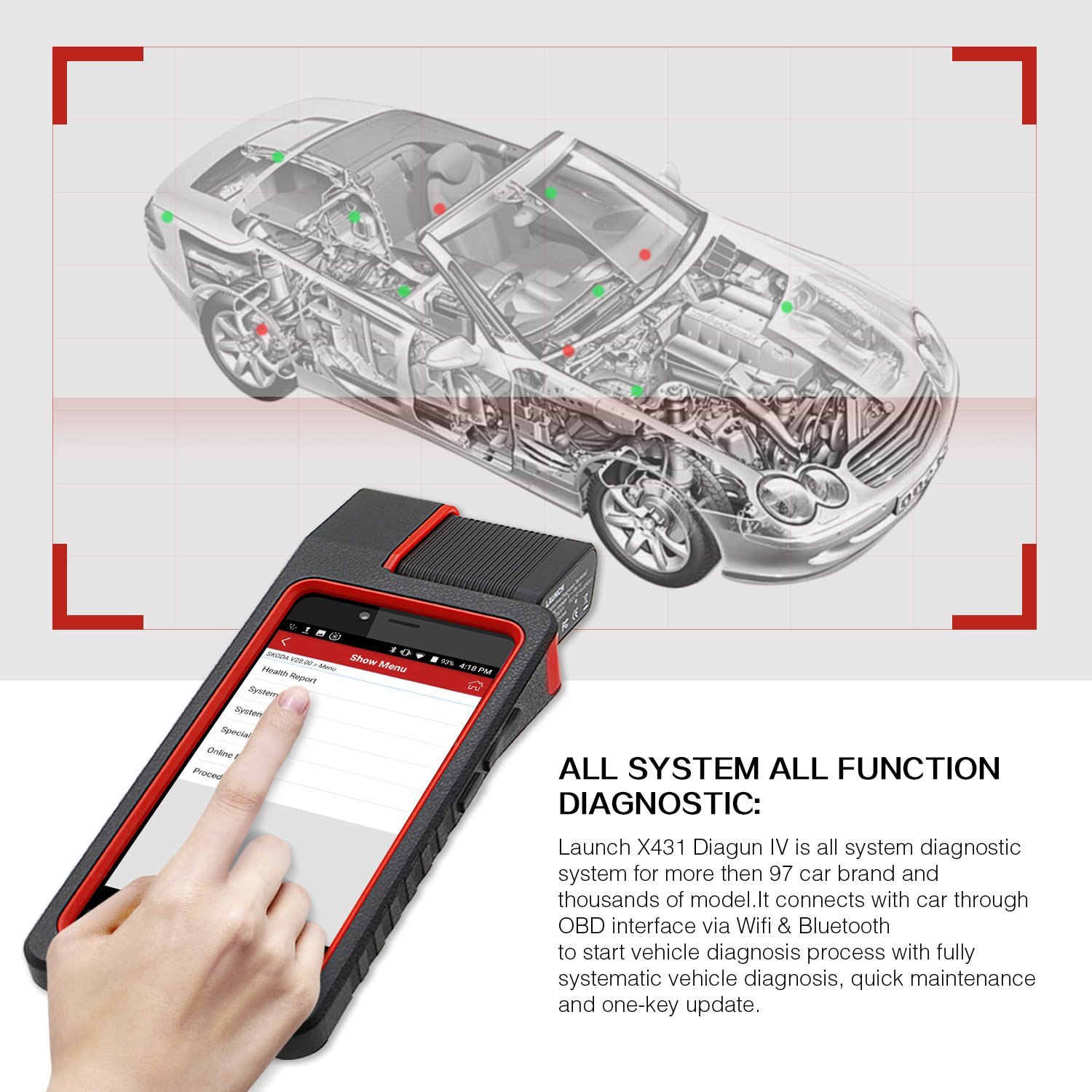 Launch Diagun IV is an slim evolutionary vehicle diagnostic tool. In addition, X-431 Diagun IV supports Wi-Fi connection, one-click update, diagnostic feedback and all kinds of service functions (including oil lamp reset etc).
Diagnose Configures: X-431 Diagun IV to operate as a launch automotive diagnostics tool.
Special Function: To perform some maintenance items, including electronic throttle position reset, ABS bleeding, oil lamp reset etc.
Feedback Diagnosis : This option allows you to feed back the diagnostic reports/software bugs to us for troubleshooting and analysis.
Software Upgrade: To update vehicle diagnostic software. If you keep signed in, a pop-up message will appear on the screen once a newer version is detected.
Maintenance Help: To browse the FAQ, Quick Start Guide, User Manual and How-To videos.
Personal Center: To manage, activate your VCI connector, diagnostic report or personal information etc.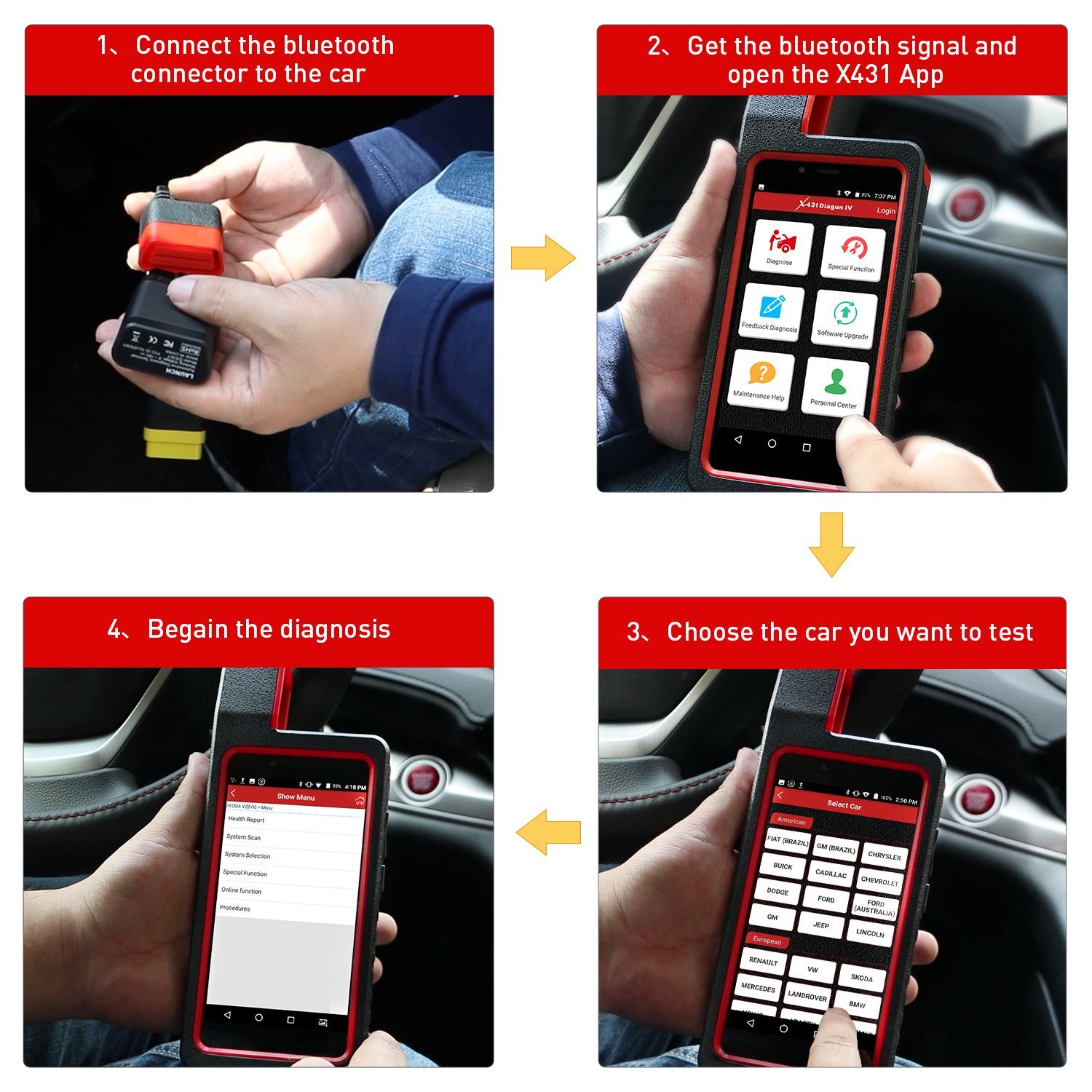 Vehicle List
America: Chrysler,Dodge,Jepp,GM,Buick,Cadillac,Chevrolet,USAd,Lincoln,Changand
European: Audi,Land Rover,Opel,Porsche,Rover,SAAB,Seat,Skoda,Smart,Transporter@&V-class,Volvo,Ferrari,IZH,Martha Lahti,Martin Aston;Paz,Seaz,Uaz,Zaz,Benz,Maybach,BMW,HCBMW,Rollsroyce,Citroen,Fukang,Fiat,Abarth,Lancia,Romeo,Peaugeot,DFPeaugeot,Renault,Dacia,VW,ingley,Bugatti
Austrialia: Australiad,Honda,,Holden,Australia Horton
India: Mahindra,Perodua,Proton,Maruti, Tata,indian Mahindra,Indian Maruti,Indian Tata
Iran: Saipa
Japan: Daihatsu,Mitsubishi,Subaru,Suzuki,Honda,Acura,DFHonda,GZHonda,JP Isuzu,TLIsuzu,Mazda,YQMazda,Nissan,Infiniti,DFNissan,Toyota,Lexus,TJToyota
Korea: Daewoo,Hyundai,Kia,Ssangyong,Samsung
Malaysia: Perodua,Proton
Russia: Gaz,Vaz
Chinese: Brilliance Auto,BYD,Changan,ChangCheng,Chery,Foton,Geely,Gonow,HaFei,JAC,Lifan.ect.