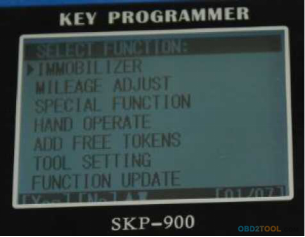 Menu has 7 options as follows:
2.1 IMMOBILIZER
It let you program auto transponder keys, auto smart keys and auto remote keys for European cars, American cars and Chinese cars.
2.2 MILEAGE ADJUST
It can allow you to read and change mileage data.
2.3 SPECIAL FUNCTION
It works with various adapters to identify chips.
2.4 HAND OPERATE
In certain condition, it can help you match keys and remotes manually.
2.5 ADD FREE TOKENS
The tokens for SKP-900 Key Programmer are limited. If you use up, you need to contact your dealer to add your tokens by free.
2.6 TOOL SETTING
It can provide you with hardware Info and SN of your OBD2 Programmer.
2.7 FUNCTION UPDATE
It can help you update software online if possible.