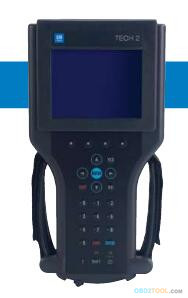 After using the Tech 2, a few simple steps will insure that you get the most life out of this diagnostic tool.
NOTICE
Do not spray or pour cleaner anywhere on the Tech2 Scan Tool. If the Tech 2 should become dirty, clean it with a mild detergent or hand soap. Avoid using harsh solvents such as petroleum-based cleaning agents:acetone, benzene, trichlorethylene, etc. Harsh solvents can etch Tech 2 plastic surfaces.Although the Tech 2 is water resistant it is not waterproof, so be sure to thoroughly dry off the Tech 2 prior to usage and/or storage.
Maintenance of the Tech 2 requires periodic inspection and cleaning of:
*  The display window
* The keypad
*  The cable assemblies and connectors
Make sure the Auto Scanner Tool Tech 2 is not connected to a vehicle or other power source and follow the cleaning procedures detailed below
Cleaning the Display
The display collects dust and grime during normal use. Occasionally wipe the screen with a clean, soft,static-free cloth. Remove stubborn stains by applying a non-abrasive glass cleaner to a soft cloth and wipe cloth across display area.
Cleaning the Keypad
Clean the keypad with a non-abrasive cleaner. Apply a small amount of cleaner on a soft cloth and wipe
cloth across keypad area.
Maintaining the Cable Assemblies and Connectors
Inspect cable assemblies during connection and disconnection to components. Watch for any cuts or abrasions along the cables. Check the connectors and connector pins for grease, dirt and corrosion. If contaminants are present, remove them with a mild soap solution.
Storing the Tech 2
*  Store the Tech 2 away from solvents and other liquids. It is NOT moisture proof.
*  Store the Tech 2 away from direct sunlight. Ultraviolet and infrared light will darken the display.
*  Store the Tech 2 in its plastic case. Otherwise, the high-impact plastic cover could become scratched
Getting Started
This section covers all Tech 2 vehicle applications. Therefore, some of the information provided may not be required for individual applications.
The Tech 2 contains two serial communication ports: the RS-232 and the RS-485. Use the RS-232 port for downloading data from another computer to the Tech 2. The RS-485 port is currently not used. The OBD2 Scanner Tech 2 also contains two PCMCIA ports, a power jack connector, and a Vehicle Communications Interface (VCI) connector. One of the PCMCIA slots contains a memory card with diagnostic information. The power jack accepts power from the AC/DC power supply, battery, or cigarette lighter power cable. The VCI connector accepts the DLC cable or DLC loopback adapter