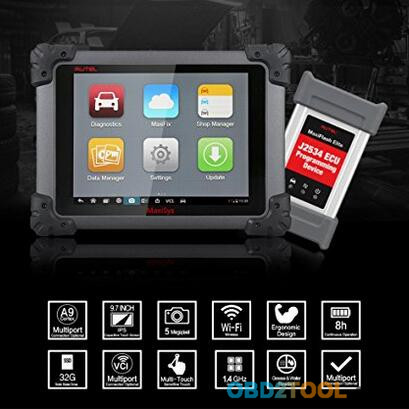 Just letting you guys know that I'm a Master Technician and shop owner for over 15 years. The most sophisticated scanner I own is the 2009 ver. of the Snapon Modis which is a great scanner but it became obsolete. With the Maxisys MS908 Pro I was a little skeptical with it…cause i have a thing with Chinese made products…but after researching and viewing videos on this scanner…I was sold with it's functions. When I received it let me tell you…I am impressed as soon as I opened the box.
The first thing I like the weight and size of Autel Maxisys. It's light and very comfortable moving around especially that it's bluetooth…wow done with cables! Next I read people reviewing about disappointments on the updating…it was not as long as they say…I'm connected to cable modem and the update took just 1hr 1/2 and in the afternoon. I did it Ethernet instead if Wifi to make it faster. So I believe those people had connectivity issues. Now the best part, the speed of this thing…incredible. Wow the booting up, the ease of touch screen…it feels like navigating through my Samsung S6. I've had this for a week…it it already saved me money.
I had a 2016 LandRover RangeRover that needed a rear brake repair…when it came time for the repair, I had no knowledge it had electronic parking brake…so I almost thought I was going to lose that job till I checked to see If the Maxisys had the electronic brake release feature…and shocking it did!! I was so happy! Next job I had was a 2009 Hyundai Sonata 4cyl, complaint was it had a 2-1 rough downshift…found there's a recall that needed to be reprogrammed on these symptoms…guess what…this thing has a Transmission ECU reset feature…and it worked! Unbelievable! I'm very happy with this Auto diagnostic tool and also glad I didn't go as far as investing in Snapon or Matco products. It's good enough for me!