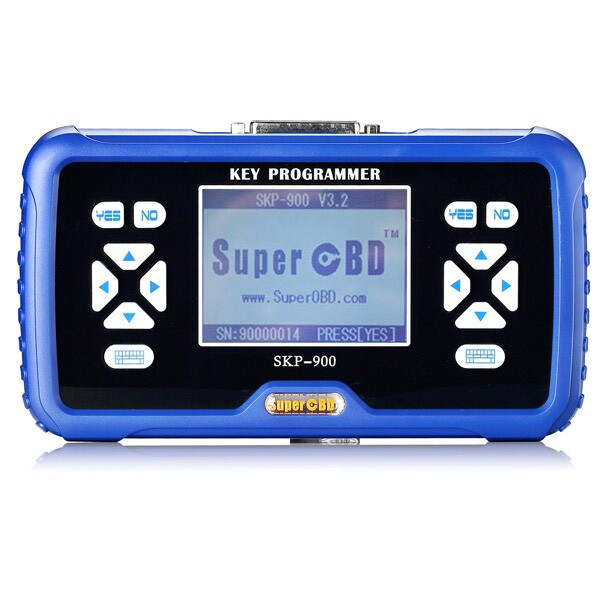 Following is the FAQ of SKP900 programmer concluded by OBD2TOOL.
Q: Can SKP900 program used smart keys?
A: Generally please use brand new keys, but if you can erase the chip of the used smart key completely, our SKP900 can be able to program it too.
Q: how I get more tokens?
A: SuperOBD SKP900 is with 50 tokens, after you use up, you can go to the SKP-900 official website to get more. It is for free.
Q: this skp-900 CAN read pin code?
A: yes, SKP-900 can read pin code for many vehicles.
Q: what year this skp-900 cover?
A: skp-900 can do both old and new cars. year after 2006 is better.
Q: skp-900 supports all car key lost?
A: skp-900 supports all car key lost of some cars
Q: SKP-900 can program TOYOTA G CHIP?
A: yes, SKP-900 can program TOYOTA G CHIP.
Q: How to solve the no connection problem of SKP-900 ?
A: Please open your main unit,check this chips,maybe this chips pins is loose.
Professional Diagnostic Tools Mercedes Benz C5 Xentry Connect diagnostic interface, produced by French ACTIA Company and equipped with Panasonic Xentry-Tab, can test Engine / Transmission / air conditioning /SRS/ABS/ anti-theft system and OBD-II system.
MB Star C5 can provide complete diagnosis for the newest hybrid W222. And it has a qualitative improvement in hardware and software by authorization of diagnostic interface to control the software.
BENZ C5 SD Connect Diagnostic Tool Feature:
Efficient diagnostic program and complete vehicle database
Simple and easy-to-use user interface (UI)
High-performance Tab with 4G memory and 13.3 inch LCD touch screen
Advanced upgraded VCI+ communication inter
Support Wired/ wireless connection
Cover all new Mercedes Benz models.