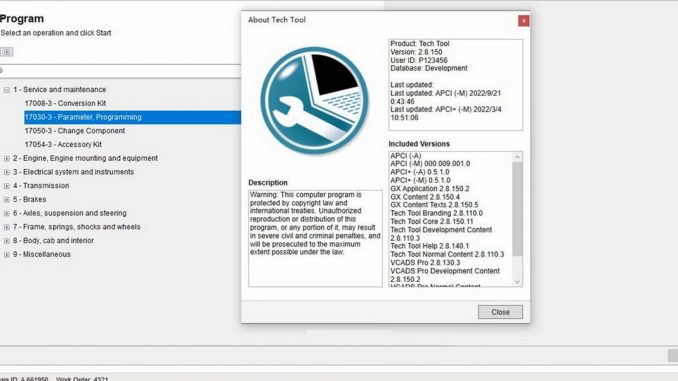 What is Tech Tool?
Tech Tool is a tool that supports the repair and diagnostic process, developed to make the work in the workshops easier and more efficient. Tech Tool can be used online or offline (i.e. connected to central systems or not) in the workshop, out in the field, at the roadside or during test drives.
Tech Tool is an application for diagnostic with the possibility to use plug-ins to cover the whole repair process. With Tech Tool you can diagnose, test, calibrate and program a product. A product could be a vehicle, engine or a machine.
Volvo Premium Tech Tool Software Include:
1.Volvo Tech Tool
2.Dev2tool
3.Developer tool Plus(Acpi+ 2022.07) (for programming parameters version 3 and 4 – newer trucks)
Volvo Premium Tech Tool Software Download:
1.Browse this link to download PPT 2.03 all files:
https://mega.co.nz/#F!MMEF0aRT!OcseZ1B70uYgbIOQYrr7VQ
2.Volvo Premium Tech Tool Software 2.8.150
https://www.obd2tool.com/goods-10499-Volvo-PTT-Devtool-ACPI-Plus-Latest-software-Installation-Activation-Service.html
2022 Volvo Premium Tech Tool 2.8.150 With Developer Tool 07.2022 ACPI ( 1 PC )
2022 Premium Tech Tool 2.8.150 (PTT VCADS) (REAL Development) for Volvo with developer tool
Premium Tech Tool (Volvo PTT) Diagnostics software Designed for diagnosis and programming Volvo Trucks, Volvo buss, Volvo Construction Equipment, and New Models of Mack, Renault, and Nissan UD trucks.
Volvo Premium Tech Tool v 2.8.150 (replaces v2.7.116) is the OEM software. It's a part of the dealer diagnostic kit. Premium Tech Tool allows performing all the tests the dealerships can. Such as fault codes check, DPF regen, Injector Cut-out tests, and much more. Works for both Volvo and Mack trucks.
Features:
1.2.8 version Only work with original nexiq,Vocom 2, Vocom 1.(for other interface please use 2.7 version)
2.Premium Tech Tool 2.8.150 work on Window 7/8/10 (32bit & 64bit)
3.Devtool work on Window 7/8/10 (only 64bit)
4.Multi-languages,more then 25 languages
5.update online
Developer Tools Featured options:
• Chassis ID Change.
• Immobilizer ON/OFF.
• Injector programming.
• Speed Limit programming.
• EUR6 trucks supported.
Volvo PTT PC Installation Requirements:(Recommend)
Computer/Processor:Intel Core i5 or AMD FX 8 Core Series
Memory (RAM):6 GB, more memory improves performance
Hard Disk:120 GB SSD(Solid State Drive) of free hard Hard disk
Optical Drive:DVD x8 drive
Display: XGA(1024×768 pixels) or higher resolution monitor with 32 bit color setings
Imput device:Keyboard and mouse or compatible pointing device
Internet connection:Network using 10 Mbps or higher speed network adapter and/or WLAN
Miscellaneous:USB interface required
A battery-pack that may provide 500 mA via USB
Premium Tech Tool (PTT) supports the following brands/models:
Volvo Trucks Older electrical system
Volvo Trucks Vehicle electronics '98
Volvo Trucks VERSION2
Volvo Trucks VERSION3
Volvo Trucks VERSION4
Volvo Buses Conventional
Volvo Buses Multiplexed
Volvo Buses Multiplexed version 2
Volvo Buses Multiplexed versions
Volvo Penta
Volvo Construction Equipment
Mack V-MAC I/II/III, ITC
Mack V-MAC IV
Mack VMAC IV+
Renault Version2 ACCESS
Renault Version2 CAESAR
Renault Version2 COMPRT
Renault Version2 EXTRT
Renault Version2 HYBRYS
Renault Version2 KERAX
Renault Version2 KERAXMIL
Renault Version2 MAGNUM
Renault Version2 MIDLUM
Renault Version2 PREMIUM
Renault Version2 SHERPAL
Renault Version2 SHERPAM
Renault Version2 VAB
Renault Version2 VBCI
Renault Version2 VLRA
UD Trucks Version2 UD-HD
UD Trucks Version2 UD-MD
Volvo Premium Tech Tool Software Display: